Director Get-Together at GDC 2003
March 28, 2003
by Darrel Plant
Most professional game producers don't think of Director when they consider a development system for their next project, but there is a definite subset of Director users who specialize in creating games.
The Game Developers Conference 2003 was held the first week of March at the San Jose Convention Center. While most of the attendees were there to develop games in C++ and Java for a variety of platform (ranging from mobile phones to computers to PS2 and Xbox consoles), there were some hardy Director souls who got together on Friday evening -- the next-to-last day of the conference -- to talk about games, Director, Macromedia, and whatever else came to mind.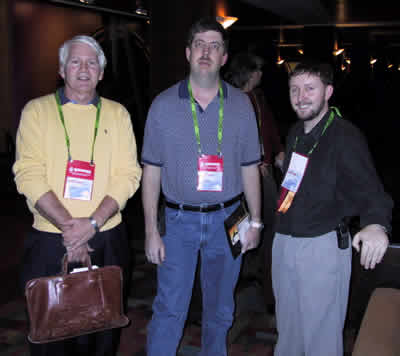 (from left to right): Steve Bullock, Clint Taylor, and Brian Robbins.
Darrel Plant is Technical Editor of Director Online. He is the Publisher at Moshofsky/Plant Creative Services in Portland, Oregon, and the author of or contributor to a number of books on Macromedia Director and Flash, including Special Edition Using Flash 5,, Flash 5 Bible, and Director 8.5 Studio..
Copyright 1997-2019, Director Online. Article content copyright by respective authors.