Flash Forward 2001 Highlights
February 23, 2001
by Darrel Plant
The fourth Flash Forward event in a year moved back to San Francisco where it all began, although the latest event took place at the Bill Graham Civic Auditorium, a somewhat more accessible location than last year's hilltop locale.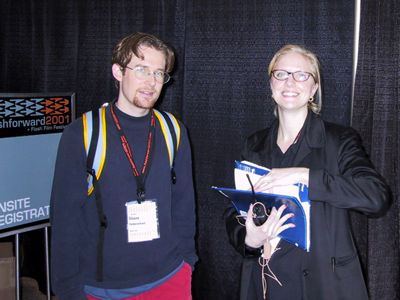 Flash Forward sponsor UDA's Margaret Carlson welcomes another attendee to the conference.
An estimated 2,200 people came from all over the globe for three days of seminars, split into three content tracks, with five or six topics per track per day. Obviously, to cover everything, you needed more than one person, but I tell you about what I saw and heard.
Keynote Announcements
A number of announcements were made at the conference keynote by Macromedia President of Products Kevin Lynch, most building on what's been hinted at in previous conferences:
Usability's the buzzword of the day. People are waking up to the realization that while Flash can do cool stuff, its uses haven't always made it the most effective tool for communication, particularly when it comes to folks who can't see the cool animations.
Flash is extending its tentacles into new platforms with the release of a player and development kit for the Pocket PC platform. In a move that will surely drive some Director developers crazy, a version of the player code resides within the new LucasArts "Star Wars Starfighter" game on the PlayStation 2, driving much of the player control interface.
Demos of the Shockwave 3D technology initiative with Intel announced last year were shown, including a soccer game that seemed to be running a bit slowly, along with a walk-through of an imported Quake level that ran just fine.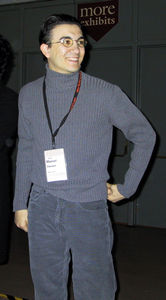 Manuel Clement, Flash 3D guru, waits for a session to begin.
One of the technology demos shown during the keynote caught special attention although I'd seen it in New York at last summer's show in more depth. Excite / at / Home has modified the Flash player to composite over live video, and uses it as a part of the interface to their service, operating on their set-top boxes.
Sessions
Oddly enough, a whole session on Monday morning was devoted to a discussion of Shockwave versus Flash, and the appropriate uses of each. All praise to Rich Shupe of FMA (and author of The Director Xtras Book) for bringing Director into the house. I didn't go to that one, however, electing instead to check out a session on "XML, Flash, and Generator". Robert Reinhardt (co-author of The Flash 5 Bible) introduced the audience to how XML objects can be used and manipulated in Flash movies. Kind of makes me wish for property lists. (BTW: data in Flash's custom objects can be accessed in syntax almost identical to that of property lists in Director.)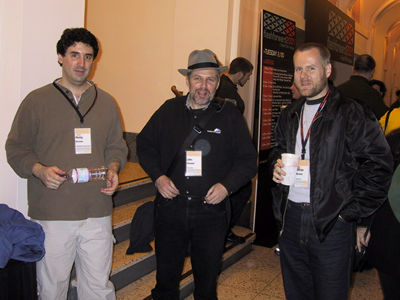 It's a Director/Flash trifecta! From left to right: Flash Forward three-time presenter Phillip Kerman; Macromedia Tech Support's infamous John Dowdell; and a blast from the Director FTP past, Marvyn Hortman.
Fellow Portland multimedia developer and author Phillip Kerman (Teach Yourself Flash 5 in 24 Hours) wowed some folks with his presentation, in which he'd mocked up as much of the Flash interface as he felt was necessary to talk about Smart Clips, the Flash equivalent of sprites with behaviors attached. He'd built in the ability to select a movie clip in the presentation frame and apparently change its properties, to do things like speed up and slow down animation. Even though he tried to drag me into a vegetarian restaurant at lunch, I can say that his was one of the better sessions, with more of an emphasis on how to accomplish a task, rather than a vague explanation of how something can be done.
The Macromedia and Microsoft party on Monday night celebrated the PocketPC Flash player, and several PocketPCs were chained to a table upstairs for people to play with.
Another Director mention came in David Colquhoun's discussion of using Flash to produce a cinema advertisement for the New Zealand Symphony Orchestra. One of the sequences called for a series of text animations (a zooming effect), and rather than do each of the tweens manually, the Saatchi & Saatchi team used Director to programmatically animate the items and export a very large bitmap for each frame (programmatic animations can't be exported from Flash) He said it took them only a day, instead of the week they'd expected to export the oversized bitmaps.
One crack in the Director fortress appeared during the "New SWF Tools" session on Wednesday when Tim Goss from Northern Codeworks unveiled an extensible (Windows-only) version of a Flash projector. It contains not only a number of functions similar to BuddyAPI (file and directory access, registry modification) but also video playback within a Flash projector. All for less than US$150. When it actually ships (the site was still in prerelease mode a couple of days after the show), it should make a lot of people happy -- and some others unhappy.
One of the more amazing implementation demos I saw was the folks at cHmAn, who gave a behind-the-scenes look at their multi-user community game. Banja is an episodic game delivered in multiple languages. Players don't directly interact with each other -- most of the game was developed in Flash 4, without the benefit of XML Sockets -- but a portion of the site does consist of an chat area and implements Sockets. The system they set up to define movement areas, blocked areas, hot spots, and zooming areas on the screen was astounding in its ease-of-use and designed flexibility.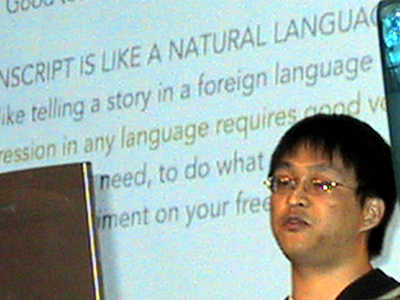 Sam Wan showed approaches to natural-style animation, building on pendulum swings and decelerating movement.
That the Flash book market has outstripped the Director book market at its peak a few years ago probably goes without saying. You just about couldn't turn around without meeting someone who had written, was writing, or had contributed to a book (myself included). Amazon's got over 40 Flash 5 books in their list currently, and the publisher's reps were beating the bushes for more at the show.
Exhibition
The Flash Forward Exhibitions aren't large, but there were a couple items of interest.
Electric Image has just released Amorphium Pro, adding SWF export to the tool which has a number of features that make it a little like sculpting in clay. My initial tests ran reasonably fast, even on a 233MHz laptop.
Immersion makes TouchSense Technology, a force and tactile feedback system, and they were showing how Flash FSCommands can activate mechanisms within Logitech's $40 iFeel Mouse. They say a quarter-million of these types of devices have been sold over the past six months (Windows-only, natch). Unfortunately, it appears that where Flash is concerned, these mechanisms rely on browser scripting interaction with an object embedded on the same HTML page. Their CD-ROM contains development kits for Dreamweaver, Flash, and Shockwave, but there's also an ActiveX control that may work inside Director projectors.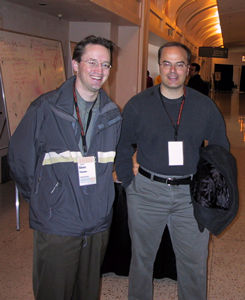 Glenn Thomas of Smashing Ideas hangs with Macromedia Flash creator Jonathan Gay.
The Flash Forward shows have a vibrancy that's not always there at the Macromedia User Conferences. Whether that has to do with the fact that everyone's there for a single purpose/program (Flash) or whether FF attendees are somehow deluded into happy-happy feelings of being on top of the Web tiger right now is sometimes difficult to deduce. My own guess is it's a bit of both, but the fact that the focus of over 2,000 people is on one product for three days has to have a lot to do with it, and that's a feeling that may be difficult for UCON to duplicate with a product line that's going to be expanding even more to include the products acquired with Allaire. Some Director users are saying that the $1,400 (plus travel and lodging expenses) price tag for the July UCON doesn't look very attractive when only one track per session (a total of 8 sessions for three days) will be dealing with Director.
Don't count Director out yet, though. Explicit statements were made at the show that Director isn't going away; that there were functions that weren't going to added to the Flash player at this point, in order to keep the distribution size small enough to fit it into the variety of devices it's expanding into (although the thought did cross my mind that that wouldn't prevent different versions of the player from being developed for different platforms). Despite significant inroads into mindshare both inside Macromedia and beyond, there are still significant differences between the two programs, particularly in Director's easy access to external media and unstructured data. On the other hand, Flash 5's ActionScript capabilities and the sheer size of its install base have made it a contender for many of the same types of multimedia projects that would have gone to Director by default a few years ago. Don't even bother trying to fight it.
Most of us haven't. Almost every Director developer I've met over the past year has admitted doing some Flash work. Some have gone completely over to the dark side. It's inescapable and even useful. And if the success of conferences like Flash Forward (over 8,000 attendees at four conferences in just under a year) is any indication, it isn't about to go away any time soon.
With that in mind, I'll reveal a dirty DOUG secret: We're going to start covering Flash more often and not just in a Director context as we've done ever since early in 1998. One of the reasons Zac and Pat asked me to be Technical Editor is that I've been using both programs since 1997. You've probably noticed that Zac rewrote the menu bar in Flash. We have been assimilated. (Except for the MACR ticker.)
That's not to say that we're about to dilute our Director coverage. The name of the site isn't changing. The Multimedia Handyman isn't about to start answering your Flash questions. But we might have a Flash Handyman in the wings. The goal is to continue the scope and volume of Director content DOUG is known for, and add Flash coverage to that.
My name is Darrel. I'm a Director and Flash developer.
Darrel Plant is Technical Editor of Director Online. He is the Publisher at Moshofsky/Plant Creative Services in Portland, Oregon, and the author of or contributor to a number of books on Macromedia Director and Flash, including Special Edition Using Flash 5,, Flash 5 Bible, and Director 8.5 Studio..
Copyright 1997-2019, Director Online. Article content copyright by respective authors.